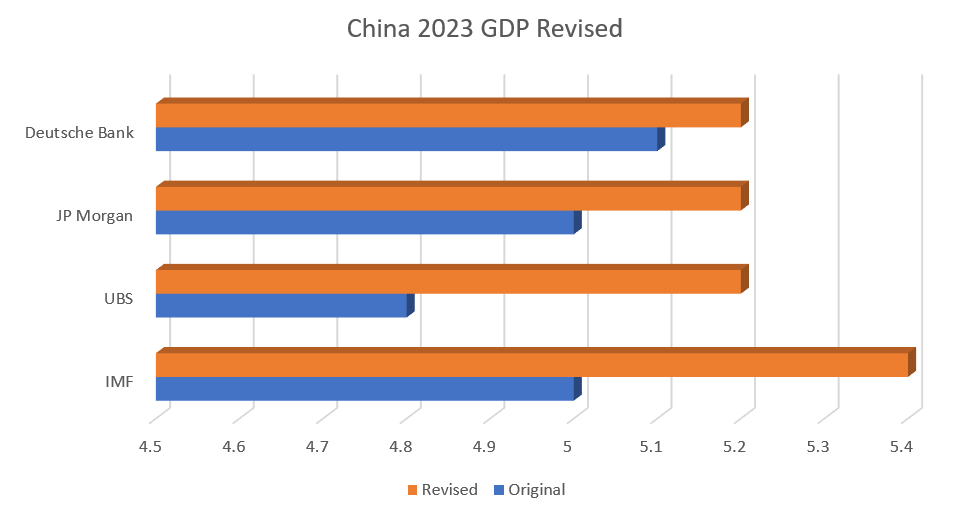 IMF and Major Banks Lift China's 2023 Growth
GDP revised upwards following Beijing's 1 trillion yuan sovereign bond issuance.
Major international banks and the International Monetary Fund ("IMF") have revised China's 2023 GDP growth upwards, despite continued concerns about deflation. The IMF has revised its China GDP growth to 5.4% for 2023 and 4.6% 2024. In October, the Washington-based financial body downgraded China's growth forecast to 5% and 4.2% in 2023 and 2024 respectively.
The IMF's 180-degree revision followed a decision by Beijing to approve a 1 trillion yuan ($137 billion) sovereign bond issue and allow local governments to frontload part of their 2024 bond quotas, in an effort to stimulate the economy.
Likewise, UBS, JP Morgan, Nomura and Deutsche Bank have also revised upwards their China full year GDP growth to 5.2%.
Infrastructure investment growth picked up in September, while manufacturing investment also expanded. Consumption, a mainstay of the Chinese economy, has seen steady increase. Exports of automobiles and electronic products have been significantly strong.
Numerous measures to support the property market were recently announced and together with the array of data released last month regarding infrastructure, manufacturing and consumption growth, underscored the gathering momentum of the world's second-largest economy despite lingering global and domestic headwinds, consolidating the country's confidence of meeting the growth target of around 5%.