CityLinkers 10th Anniversary
CityLinkers Group held its annual dinner on 3rd February 2023 to celebrate its 10th Anniversary and achievements of last year. Apart from CityLinkers staff member, business partners and guests also joined the dinner and shared the joy with us.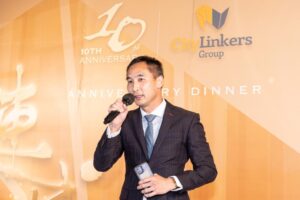 Mr. Paxson Fung, Managing Partner of CityLinkers Group, delivered a speech which he summed up the Group's achievements last year and shared the future development plans.
While enjoying the food, all CityLinkers staff and guests were gratified of the lucky draw programme and had a memorable evening. As the event drew to a close, the Group embarked upon its next glorious chapter and new challenges.
Please refer to the following video for our interview regarding to 10th Anniversary