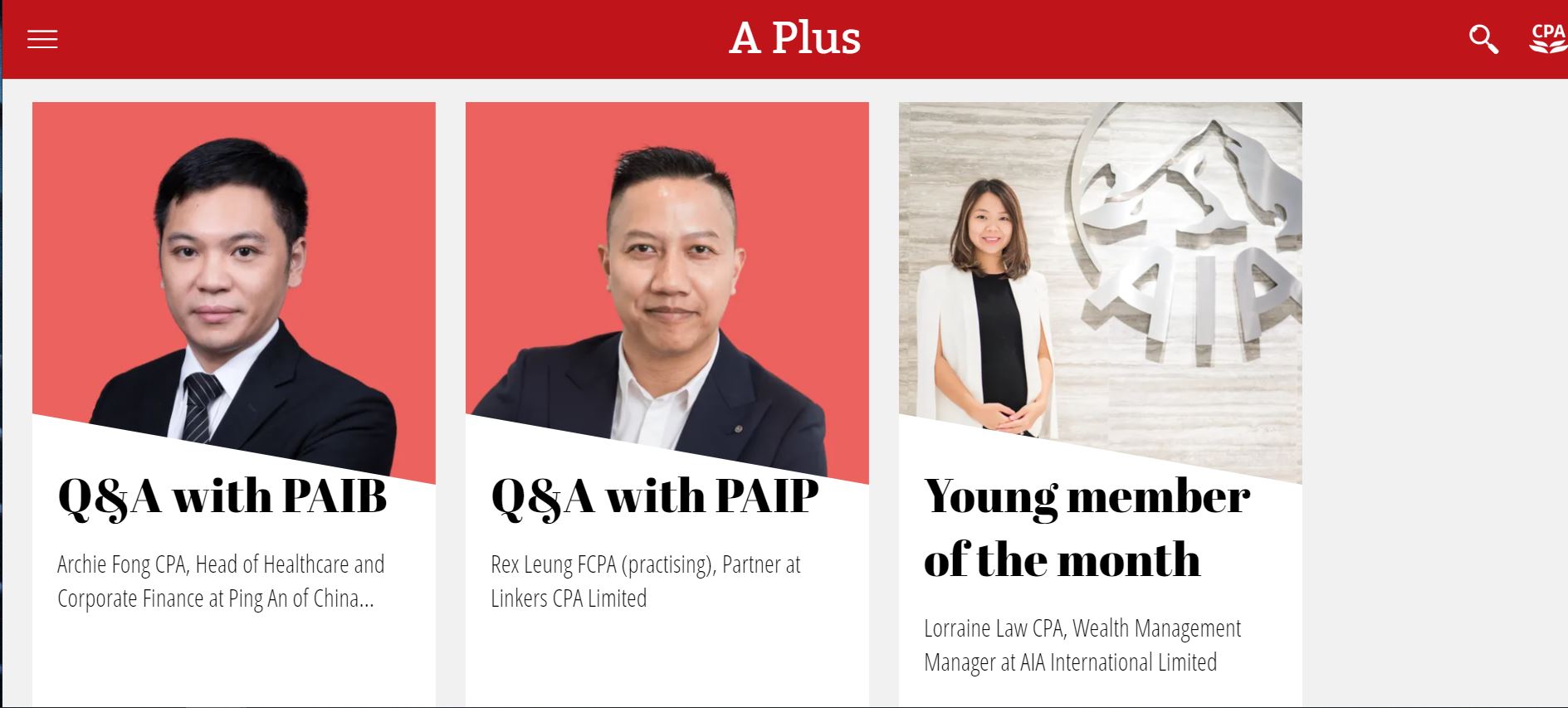 Interview with HKICPA APlus – Mr. Rex Leung Q&A with PAIP
Rex Leung FCPA (practising), Parther at Linkers CPA Limited, on his experience starting and growing a firm using a change mindset and lessons learned as a Big Four auditor.
What are the three biggest lessons in your career so far?

One is how to be a problem solver. When I started off my career as an auditor at the Big Four, I had to deal with tasks from multiple engagements simultaneously and make sure these tasks were completed within a designated timeframe. I also had to think outside the box to make sure we completed every audit engagement efficiently and effectively. Another lesson is how to run a start-up. When some other partners and me started our practice, everything was started from scratch. Serving clients to a high standard is a must, but we also need to have a forward-looking and innovative mindset in order for the practice to be sustainable and stand out. Lastly, when the practice kept upscaling, we learned how to manage different functions within a firm. For the long-term development of a firm, operations, human resources, marketing, IT and admin, etc. need to be managed in an organized and systematic way.
What was the most challenging aspect of starting a firm?

Team building, talent management, and building trust and relationships with clients are the most challenging aspects. It's difficult doing everything on your own, so having the right team is crucial during the initial stage as they help build the firm in every aspect. Secondly, attracting and retaining talent as a start-up is an art due to a lack of resources. Lastly, building relationships and trust with clients takes time. But after clients acknowledge that we are helping them with a detailed mind and heart, and see that we can deliver effective solutions and value-added services, then the relationship will be lifelong and priceless.
What do you like most about specializing in audit and assurance?

When carrying out audit engagements, we work with clients in different industries to understand their businesses and operations. By substantiating their financials, one can quickly get a full picture of each business, which can be quite fascinating when building your career as a CPA As a professional accountant in practice audit and assurance is essential to almost every business and also in terms of a company's corporate governance. By consistently delivering professional services and advice to clients, we become trusted business advisors. This is what I like most about this specialization – apart from performing our professional duties, there is also that meaningful interaction we have with clients.
In what ways has your CPA qualification helped you in your career?

During the qualification process, I learned to be determined and persistent in achieving my goals. As an entrepreneur and a partner at a firm, my qualification and CPA training have given me a systematic and analytical mindset, allowing me to clearly visualize goals and priorities, even when I'm dealing with multiple tasks under
pressure.
As a SMP, how have you been adapting to the rapidly changing economy?

The pandemic has reset businesses and led to permanent changes in the workplace. This "new economy" continues to dominate the change and growth agenda. I have had to adopt a change mindset, and be prepared for anything new or potential future changes. It has always been my vision to have clients treat us as their asset, and to view us as their trusted business advisors. We strive to be reliable business partners who can offer the right solutions and add value to the growth and development of their businesses amid a rapidly changing economy.